Is it real? If you have never seen a live blue lobster or picture of one, you may think people were crazy who said that there is such a lobster colored. Well, do not worry, blue lobsters are real.
Viewing these pictures and photos of these curious critters makes you wonder how in the world it ever turned blue. Many people may think that lobsters are red.
In fact, they may be dark greenish, white albino, yellow, dark brown and bright blue, but not red. Lobsters only turn red when they have been put into a pot of boiling water.
Blue lobster photos are interesting because it is one of those constants, (or so we think), that does not quite belong in the mainstream of things.
---
---
You might as well enjoy viewing the images of these large crustaceans, because the chances of seeing one alive is very remote.
Professional lobstermen have reported to having never seeing one themselves or maybe only one in their lifetimes. There are different estimates, but various reports put the chances of a lobster being born or turning at about one in a million, to one in three million.
Blue Lobster – What is it?
Scientists state that the reason that a few of these crustaceans may be found bright blue is due to a genetic defect that effects protein and certain chemicals in the lobster's body.
Apparently, the technical reason for this color transformation is due to protein molecules wrapping themselves around astaxanthin, a carotenoid molecule.
The two different molecules are squeezed together which forms a blue complex that is known as crustacyanin. As you may imagine if only 1 in a million or less is born, far fewer probably make it to adulthood.
Could you imagine how this bright blue lobster stands out in its native environment. It either gets tough real quick or becomes the next meal for one of its predators.
• Shop Seafood Steamer Pots.
Cool Blue Lobster Pictures and Images
This is a great picture of a blue lobster. This is a rare sight. Most people will never see one in their entire lifetime. There are many life-long lobstermen that have never caught or seen one of these gorgeous shellfish.
Yes it is real. Good thing its claws are tied closed. Would not want to get a finger caught in one of these big lobster claws. If you are wondering, they taste just like the regular looking lobsters.
Yes, sweet and delicious, especially dipped in hot butter. However, when one is caught, it is much better to donate it to a place with an aquarium. People will appreciate being able to see such a rare shellfish.
Picture of a bright blue lobster in an aquarium tank.
Blue Lobster & Portland Lighthouse Print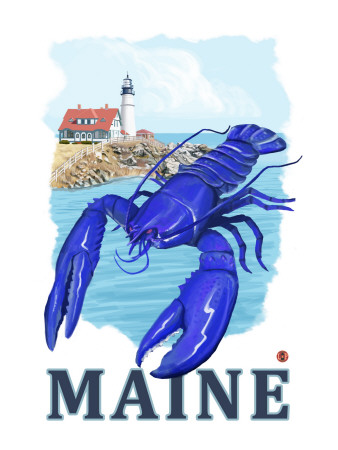 Video: Meet a rare blue lobster
Enjoy this cool, real but weird looking shellfish.
Hope you enjoyed these pictures and photos. It is not everyday that one of these delicious crustaceans are caught.